Temporary Hiedanranta webpages are no longer updated.
_______________________________________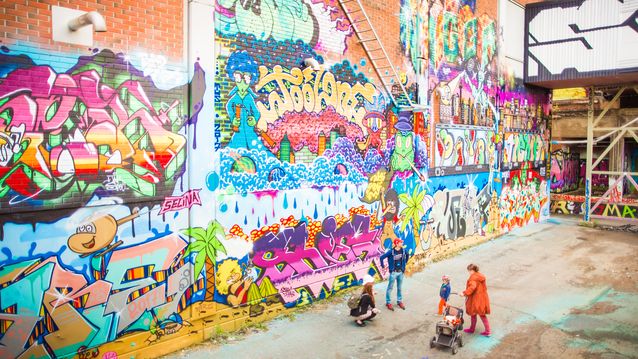 The former Lielahti industrial area was opened to the public in 2016. The City is enabling various events and activities in the area by, for example, renting out facilities for temporary use and supporting the organisation of events. Temporary Hiedanranta is a part of a development programme by the City of Tampere. 
Already operating in Hiedanranta is Kulttuuritila Kuivaamo, a venue built into an old drying plant that can be rented for various events. A community of craftsmen and artists have formed a community called Hiedanrannan Paja. At summer of 2017, Kenneli DIY, a biggest concrete indoor skateboarding hall in Finland which also meets Olympic standards, was opened in Hiedanranta.
A new circus activities centre, Sirkus Faktori, opened its doors in Kuivaamo in the spring of 2017. The Kartano-kahvila Mielihyvin, café at the Lielahti Manor, is open to customers every day. In addition to the floating garden established in 2016, a floating sauna is now also in the makings in Hiedanranta – the building and design work is being carried out by city residents. You can read more about our upcoming events here.
Väliaikainen Hiedanranta, or "Temporary Hiedanranta", has proven to be a successful experiment that we are continuing as a part of the area's development programme. We also encourage new organisations and people to join the endeavour. Please contact us if you are interested in developing activities or events in Hiedanranta.
Follow the development programme here:
www.tampere.fi/hiedanranta
Hiedanranta on Facebook.